Interview with Megan Sutton of Tactus Therapy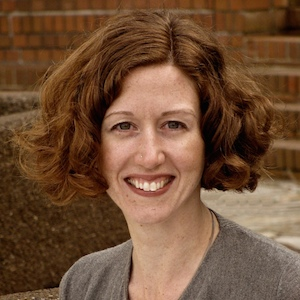 Megan Sutton, MS, CCC-SLP is an ASHA- and SAC-certified speech-language pathologist with 14 years of experience, specializing in aphasia. She designs apps for adult speech therapy through her company Tactus Therapy Solutions in Vancouver, Canada. Megan is a leading expert on incorporating technology into adult speech therapy for communication, speech, and swallowing disorders. She has worked in inpatient and outpatient rehab, acute care, home health, and intensive aphasia programs. Megan is co-author of the book Healing the Broken Brain: Leading Experts Answer 100 Questions about Stroke Recovery and has designed 20 speech therapy apps.
Note: You should consult with your doctor or speech pathologist for recommendations on treatment. The views and opinions expressed in this article are those of Megan Sutton and do not necessarily reflect the official policy or position of SpeechPathologyMastersPrograms.com
What inspired the Tactus Therapy Blog?
We wanted to provide not only apps, but also education, to people searching for help with aphasia or adult speech therapy. I started out writing app reviews on another blog, but decided it would be more valuable to write about a wider range of topics, such as evidence-based practice, inspirational people, and more general articles to get people started using technology the right way. I write for two audiences: families dealing with communication disorders, and speech-language pathologists. It's a challenge to find a balance between professional jargon and family-friendly information, but what I've come to realize is that we all benefit from a little bit of both.
What do you hope your readers get from your posts?
I hope they'll learn something new, or at least find some validation in what they already know. Ideally I'd like people to be inspired to improve their rehab efforts, whether they're dealing with a communication disorder in their own lives or treating them professionally. Finally, I hope that our readers will feel that they can trust us to provide high-quality materials and think of us as a go-to resource for tools and information. I started this company and blog with the mission of helping people, and I hope it does that.
How did you end up going into speech-language pathology app design?
I was working in inpatient rehab and loving it. But I couldn't give my patients the intensity of treatment they needed for neuroplastic change, and they were reluctant to use software that required a keyboard and mouse. When I saw the iPad in 2011, I knew it was the answer. I called up a friend who is a programmer, and we started the company. Our first app came out about 3 months later, and we kept going from there. I still love doing clinical work when I can, and that's where I get my ideas and the most valuable feedback on the apps – from the patients.
What qualities do speech-language pathology apps NEED to have to be valuable?
They have to be theoretically sound and evidence-based. They have to be engaging and motivating to use, and they have to be reliable (don't crash or have errors). For me to use an app, it has to be flexible as well. I don't always want to do an activity exactly as it's been laid out, so I want an app that can be adjusted or used outside the box too. I design our Tactus Therapy apps to be both flexible for professional use, and straightforward for home use. I think apps also need to be well designed to be easy to operate, free of visual clutter, and accessible to our clients (which also includes cost).
Tactus Therapy has apps for so many areas of medical speech-language pathology. What are some of the areas of speech that you believe have been most impacted by the availability of technology and apps?
When you talk about apps for speech therapy, most people think of AAC apps, or apps that help someone communicate. These are very powerful, and have really leveled the playing field for people who didn't have access to dedicated AAC devices. However, my focus has always been on apps for therapy, and more specifically, aphasia therapy. The research evidence is mounting that aphasia therapy can effectively be delivered via computer software, and we know that intensive therapy is more effective than just a few times a week. Apps give stroke and brain injury survivors a way to get more repetitions and greater intensity in their rehab without leaving home. And one of my favorite things about apps is the independence it gives our clients – they choose when to practice, for how long, and how much assistance they want from the app. They take control of their therapy, rather than being dependent on others.
What is your advice for medical SLPs who are not using technology but are interested in beginning to implement it in their sessions?
Do it! Just start. There are so many built-in apps that have huge value for therapy and communication assistance: maps, notes, photos, calendar, videos, the entire web! Then find some good apps for therapy for your populations. I wrote a guide called "Getting Started with Apps in Speech Therapy" a few years back that is available on my website as blog posts or an e-book. I've also created a list of apps that I find most valuable, along with my own. Once you see how technology can reduce your prep time and motivate your clients, you won't want to do treatment without it. I've come up with a framework for using technology in aphasia therapy for 3 important purposes: to Communicate, to Connect, and to Improve.
What is your advice for SLP graduate students?
Grad school was probably one of the best and worst times in my life. Find your comrades who will help you get through the enormous stresses, and come to terms with the fact that you will not feel like you know what you're doing for at least 5 years. Find your passion and a mentor – those will help you get through all the administrative struggles of the job. Never stop learning as our field is ever-changing, and please, take care of yourself. You can't pour from an empty cup, so budget for vacations, take time to cultivate interest and relationships outside of work, and try your best to leave work at work.