Interview with Nanette Cote of The Next Chapter of my Speech World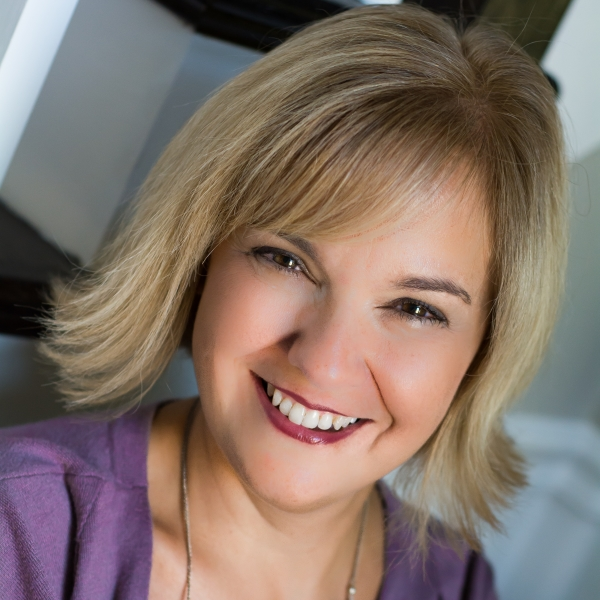 Nanette Cote has been providing speech and language therapy since 1995 in a variety of settings. In May 2012, she launched her blog: The Next Chapter in my Speech World and soon after started building her private practice: Naperville Therapediatrics. Since then, Nanette has been interviewed by her local newspaper about her blog and private practice. In May 2015, Nanette appeared on two, local television channels to discuss the impact of technology on young children and later that same year was featured in the December ASHA Leader for her innovative work in speech and language pool groups in the article, Water Works. In addition to her private caseload, Nanette contracts with Presence Learning to provide teletherapy services. When she isn't practicing speech therapy, Nanette enjoys traveling with her family, walking her dog, doing yoga, and reading.
Note: You should consult with your doctor or speech pathologist for recommendations on treatment. The views and opinions expressed in this article are those of Nanette Cote and do not necessarily reflect the official policy or position of SpeechPathologyMastersPrograms.com
When did you know you wanted to become a speech-language pathologist?
In 1993, I was nearing the end of my undergraduate studies in psychology when a friend suggested I take some additional elective coursework with her in language development and sign language. I was drawn immediately to this field that could objectively measure progress, and I liked the idea of adding a second major. As soon as I completed some observational hours at a local elementary school, I knew this was the career for me.
What inspired you to start The Next Chapter in my Speech World?
My husband, Chris, encouraged me to start writing speech2me.blogspot.com when I launched my private practice in Naperville, Illinois. We had just moved our family to the area six months prior, and he felt writing a blog would help establish myself in a new community.
What do you hope your readers get out of your posts?
My mission statement as both a speech pathologist and blogger is caregiver education. I want to help people better understand their child's strengths and needs and be able to utilize effective resources to nurture communication.
You have worked in so many settings over the years. Which has been your favorite and why?
It's near impossible to pick! I am so blessed to work in private practice, Naperville Therapediatrics, in my home office servicing children locally and virtually through telepractice, but I wouldn't trade the path it took to get here. Collaborating with the dynamic professionals that I have met along the way has made me the therapist I am today. Working at a severe-profound collaborative taught me patience, resilience, and the incredible power of working as a team. My early intervention experience helped me better understand the foundations for communication and further strengthened my co-treatment skills. Finally, my time in the schools shaped me into becoming a functional therapist by consulting with teachers and developing realistic modifications and supports.
Your blog definitely has a strong technology focus. How did your use of technology with clients grow over time?
First of all, I am completely flattered that my blog exudes a technology focus! Ironically, this isn't an area that I have found easy to navigate, especially given its ever-changing and dynamic nature. Ultimately, you cannot move forward unless you stay current. I have spent a considerable amount of time networking with colleagues regarding speech generating devices and sought training locally for implementing augmentative communication. When I first started writing my blog, several app developers and Teachers with Apps reached out to me for reviews, which also gave me a chance to really study the educational apps available for enhancing communication.
What is your advice to SLPs who have not taken advantage of technology in the classroom but want to start doing so?
Our students/clients are immersed in this technological age, and if we want to reach them, then we need to join them. Consider empowering students/clients who demonstrate this knowledge by having them explain using some tools. In my experience, children working on communication take pride in teaching the teacher; it gives them a moment to shine.
I would also recommend collaborating with colleagues locally and/or through social media. One of the greatest things about speech pathology is that we are surrounded by people who want to help and make a difference.
What is the single best piece of advice you have for SLPs going into telepractice?
Do your homework and research the best company/platform for you. I started by talking with vendors at local and national conventions and then furthered my education by interviewing with several companies. I highly recommend starting telepractice work by contracting with a company, such as Presence Learning, because they will provide you with the resources you need for training, support you in obtaining additional state licensing, and generate your caseload.
You remind us that caregivers are such an important part of treatment. What sort of differences do you see in clients with parents, family etc. who choose to play an active role in their therapy vs those who do not?
I think two words best describe the implications of having caregivers work on treatment plans: progress and graduation. Some children need lifetime support, but they can still make progress when a team works on a goal. This team includes more than caregivers; it's siblings, grandparents, nannies, babysitters, and school professionals. One of my clients just sent me a short video of an older sister modeling sound targets for her younger sister during play. Many clients graduate from speech in record time when caregivers and family members practice outside of our weekly sessions. It's as the old saying goes: It take a village.